---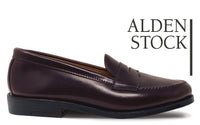 ALDEN 986 Color 8 Shell Cordovan Leisure Handsewn Loafer
Made in Massachusetts since 1884, Alden is still a family-owned business.
986 Color 8 Shell Cordovan leisure handsewn loafer:
Color 8 Shell Cordovan
Van last
Single oak leather sole
This is an Alden factory stock shoe. Delivery timing is dependent on availability. Please email us at info@davidwood.com for more information.
Don't forget your Shoe Trees – the best investment to keep your shoes looking good for a long time.