---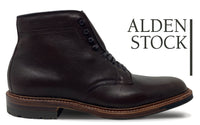 ALDEN 4512HC Dark Brown Rusticalf Plain Toe Boot
Made in Massachusetts since 1884, Alden is still a family-owned business.
The 4512HC plain toe boot in dark brown Rusticalf on the Commando sole: 
Waxed cotton laces
Speed hooks
Mocc toe stitching
360 degree restitch reverse antique welt
Commando sole
Barrie last
This is an Alden factory stock shoe. Delivery timing is dependent on availability. Please email us at info@davidwood.com for more information.
Don't forget your Shoe Trees – the best investment to keep your shoes looking good for a long time.